Bittner's Create Challenge Donation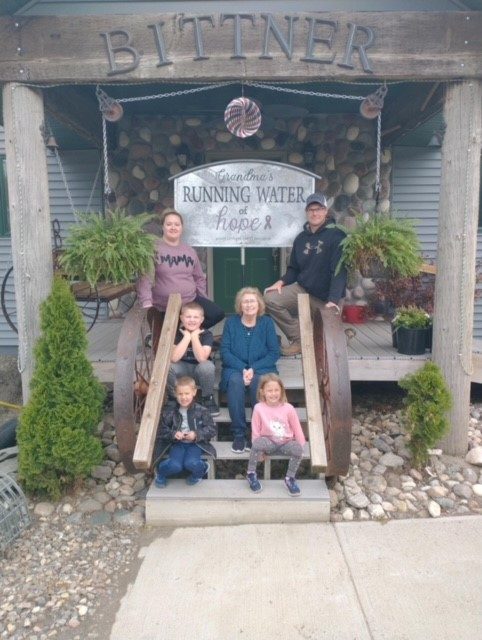 Bittner's Create Challenge Donation
By: Aprill Murphy
ALBION, Nebraska (April 14, 2022) -Keith and Mary Bittner have farmed south of Albion for the 45 years they have been married. Growing corn and soybeans and feeding hogs in the earlier years, the Bittners decided they wanted more challenges in life. With Keith's encouragement, Mary decided to go into the restaurant business. After remodeling the buildings themselves, Subway in Albion opened in 1993. An additional location in Neligh opened a few years later, with a Central City location to follow. Mary spent time at all three stores working, assisting staff, and doing payroll. Keith would tag along and do needed repairs and updates. Mary quickly excelled and was recognized as Franchisee of the Year in the mid-1990s.
All three of the Bittner sons (Bryan, Brandon, and Brad) worked for a time at Subway in their high school years. They didn't complain much because they realized it was a great place to meet girls. A joke amongst the family was that 'you don't work at Subway if you don't qualify.' In Mary's eyes, only the best teenagers worked at Subway as she knew one of them may be her future daughter-in-law. Both Brandon and his wife Lacey and Brad and his wife Shauna met and worked together at Subway. Shauna now works at Boone County Health Center and has been there for 17 years. She is following in her mother's (Angie Schalk) footsteps, who has been a long-time nurse at the Health Center.
Former employee Karen Benes fondly recalls the days of working for Mary. "Mary was a hard worker and always had a smile on her face. I first met Mary when our kids were in 4-H together. That is when she offered me a job. When I asked when she would need me to start, she replied 'tomorrow' and that began 20 years of working at Subway. Mary created an atmosphere of family first. We always talked about our families at work. Being from Lincoln and not knowing many people when we first moved to Albion, Keith and Mary treated my husband Myron and me like family. I think the world of Mary and would go back to work for her any day of the week."
In 2009 Mary began having health issues and wanted to spend more time with family and a new grandchild. The Bittners decided to sell the restaurants and invest in more farmland. Last year, Keith decided to semi-retire from farming and let their youngest son Brad take over the business. Keith and Mary also became residents of running water South Dakota in 2021.
According to Keith, Mary was evaluated at Boone County Health Center for what appeared to be gall bladder symptoms. Mary's primary care provider, Dr. Tony Kusek, and the Heartland Radiology diagnostic team were concerned about a spot on her pancreas and determined further investigation was needed. Mary was diagnosed with pancreatic cancer in April of 2021 and endured 12 chemotherapy and ten radiation treatments, not once complaining. On January 3, 2022, she had a 12 ½ hour procedure to remove the gallbladder and pancreatic cancer and is now cancer-free however continues to fight the complications from her surgery. Mary is currently in the intensive care unit at Buffett Cancer Center in Omaha.
In appreciation of Dr. Kusek and the Boone County Health Center staff, Keith would like to make a $50,000 contribution toward the new Boone County Ambulance garage. Keith is challenging his and Mary's high school classmates and the public to raise an additional $50,000. If this challenge is met, the Bittners are willing to give an additional $50,000! Both Keith and Mary felt that early detection saved her life.
The Boone County Ambulance, in conjunction with Boone County Health Center, is currently raising funds to build a 50 ft x 60 ft steel building. The building will be located just to the east and south of the Health Center. The City of Albion owns the building where the county ambulance is housed but has other needs for that space. The city has agreed to let the county ambulance use this space on a month-by-month basis.
Having an ambulance service in Boone County is of the utmost importance to the area. Without a county ambulance, individuals would need to utilize an independent ambulance company's service. Having to rely on an outside ambulance company is not ideal because of the added time it will take to arrive, which poses a safety concern for those with life-threatening issues. Costs to the patient could also increase as independent ambulance services are often considered out-of-network with some insurance plans.
There are specific requirements that must be met to comply with the code for building a new ambulance garage, therefore adding to the cost. BCHC will share this garage with the county and have a maintenance area within this space. The cost of the build is roughly $300K. The Health Center is committed to contributing funding to see this project through. The goal is that fundraising will generate at least $200,000.
Former employee Allison (Palmer) Kuester said, "When I first learned that Keith and Mary Bittner had initiated a giving campaign to the hospital, I wasn't in the least bit surprised. I first met the Bittners when they gave me my first job over 25 years ago. Since that time, I often reflect not only on the work ethic they promoted but on the sheer patience it must have taken to hire and work with teenagers. The Bittners have always had a strong dedication not only to their own family but also to their community."
Contributions to the matching challenge can be mailed or dropped off at the Boone County Health Center Foundation office. The Foundation is a not-for-profit, and your gift is tax-deductible to the extent allowed by the law.