Estate Plans Are for All Ages -POSTPONED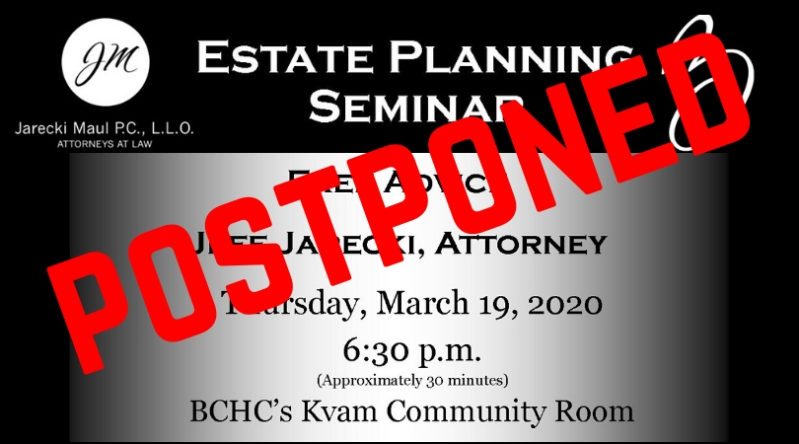 Estate Plans Are for All Ages -POSTPONED
By: Boone County Health Center
Due to COVID-19 this event has been POSTPONED. New date to be determined.
Area residents have an opportunity to get free advice from Attorney Jeff Jarecki on how to design a healthy financial future at a free Estate Planning Seminar to be held Thursday, March 19, 2020 at 6:30 p.m. Boone County Health Center will be hosting this free seminar in the Kvam Community Room.
"Everyone needs an estate plan, no matter what age or level of assets you have. It's more than just a will. It involves making a plan to take care of your family if something unexpected should happen to you such as an illness, accident, or death. Without an estate plan, the Nebraska Revised Statutes dictate the distribution of your estate, which can unnecessarily add time, expense and cause stress to your family," said Jarecki. "A good estate plan allows you to keep control and make decisions about a variety of topics such as care for minor children, finances, health care decisions, charitable giving and much more."
The free Estate Planning Seminar is open to everyone. The presentation will be a short 30 minutes. Topics will include estate planning, wills, power of attorney (POA), trust, inheritance tax and gifting. Jarecki will also shed light on often-forgotten elements of estate planning.
"This is an ideal opportunity for the public to get access to a free initial consultation from an experienced attorney, and we hope people come with questions," said Foundation Director Aprill Murphy. "This is also an excellent chance to learn about the Boone County Health Center Foundation's newly established endowment fund along with other avenues for ensuring the long-term sustainability of Boone County Health Center."
RSVP is appreciated to plan for refreshments, but it is not required. Call Murphy at 402-395-3252 to RSVP or for more information.