We've Been Recognized for Great Care!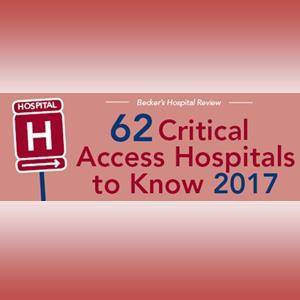 We've Been Recognized for Great Care!
By: Boone County Health Center
We've been named on Becker's Hospital Review's List: 62 Critical Access Hospitals to Know 2017 again this year! We're excited to say this is the third year in a row we've been featured as a "Critical Access Hospital to Know" since Becker's List began in 2015.
"Our staff consistently goes above and beyond to offer our patients the best care possible," said CEO Tanya Sharp. "It's nice to see that excellence recognized by Becker's Hospital Review."
The critical access hospitals featured on Becker's list have a reputation for great service and care. All hospitals on the list have 25 or less inpatient beds and a length of stay that is no more than 96 hours for short-term care. They also offer urgent care and are at least 35 miles from any other hospital.
The Becker's Healthcare editorial team builds the list by looking at the rankings and awards given to hospitals by other groups. They also weigh the hospitals' local impact and reputation for innovation.
This is the first award the hospital has received under new CEO Tanya Sharp, who took over for retiring Victor Lee on July 1st of this year.  The only other hospital in Nebraska to be recognized this year was Memorial Hospital in Seward, NE.