Applied Connective Supports Local Cancer Patients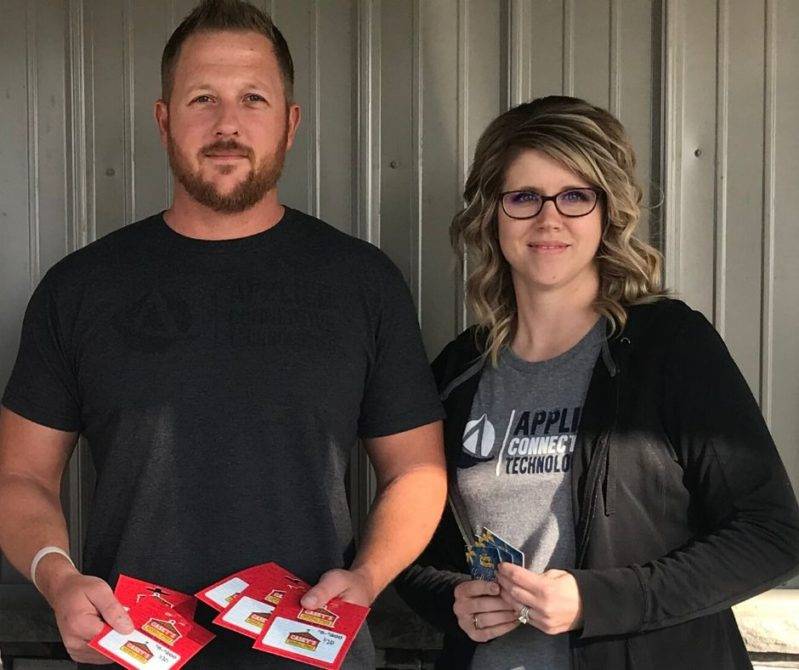 Applied Connective Supports Local Cancer Patients
By: Boone County Health Center
Applied Connective staff got a jump start on the giving season this year with a donation to the Boone County Health Center's Cancer Care program.
In honor of Breast Cancer Awareness Month, Applied Connective held a company-wide fundraiser this October selling pink t-shirts depicting the breast cancer awareness message "proud to wear pink." With costs of the t-shirts covered by Applied Connective Owner Ed Knott, 100% of the proceeds from staff purchases went into a pot to be donated to the Cancer Care program. Staff decided to use half of the proceeds to purchase gas cards for local cancer patients who need to travel for treatment and the other half to be given as a cash donation to the Cancer Care program.
A portion of the funds was also used to purchase a mirror for the Cancer Care program's Look Good, Feel Better program at Boone County Health Center.
The Look Good, Feel Better program gives cancer patients free access to Professional Cosmetologist Sara Rasmussen, who offers makeup application tips and techniques to help with skin changes during cancer treatment. Rasmussen is an employee at Applied Connective and has been volunteering for Look Good, Feel Better since the program's start in 2012.
"I'm proud of the work our staff does through volunteering and fundraising to help cancer patients at Boone County Health Cancer. Cancer is a tough diagnosis, and it's important to support our local people any way we can," said Knott.
The Look Good, Feel Better program also offers help with wig selection, fitting and care, as well as help with scarves and turbans through volunteer expert Sheila Leetch. Cancer patients also get tips to restore dry skin, nails and cuticles after treatment.
Look Good, Feel Better is free to all patients, and donations such as that of Applied Connective help keep the program strong.