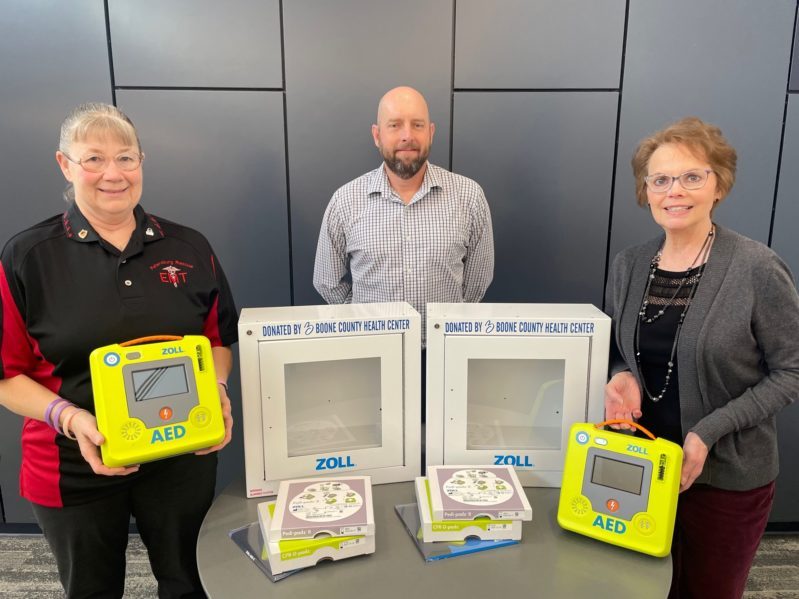 BCHC Donated AED's
By: Aprill Murphy
ALBION, Nebraska (January 25, 2023) – Boone County Health Center (BCHC) recently donated two automated external defibrillators (AED)s. One donated to the Albion Sports Complex and one to Warner Hall in Petersburg.
AEDs are portable medical devices that automatically analyze and detect cardiac arrhythmias of sudden cardiac arrest patients through electrodes, and are able to produce a shock which stops the heart and allows it to return to a normal rhythm, a process called defibrillation.
As the summer approaches, an increase of ball players and spectators will be visiting the complex to enjoy a summer ball game. "The AED will help provide lifesaving measures in case of a cardiac emergency until first responders arrive. Having an AED on hand for trained volunteers to use is definitely a priority," stated Doctor Sean Kohl. Warner Hall also see many people through their doors with the various celebrations and events that take place throughout the year.
The donation of the AED was made possible from 340B funds which are used to improve community health.
Photo: Kim Fangman, Petersburg Fire & Rescue accepts on behalf of Werner Hall, Dr. Sean Kohl presents AED units, pads and wall mounts, and Sharon Ketteler, Deputy City Clerk accepts for City of Albion.