BCHC State Surveyor Reports 'Awesome & Fantastic'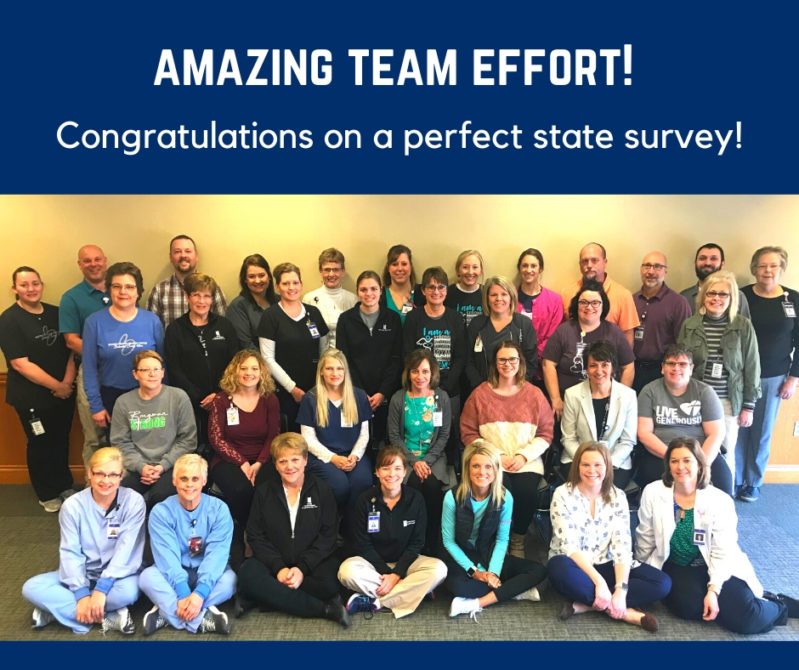 BCHC State Surveyor Reports 'Awesome & Fantastic'
By: Boone County Health Center
Boone County Health Center had a couple extra visitors last week. Two state surveyors showed up unannounced Monday to do a state survey.
The surveyors stayed for most of the week, looking through Boone County Health Center's operations and meeting with multiple staff members, patients, and even a few visitors.
During their exit review Thursday morning, survey results showed Boone County Health Center had zero hospital deficiencies and zero fire marshal deficiencies, shining results for a facility undergoing this kind of survey.
"This accomplishment is an accurate reflection of all the hard work our staff puts in day after day to provide exceptional care for our patients," said President and CEO Tanya Sharp. "Our staff lives our I.C.A.R.E. core values of integrity, compassion, attentive, respect and excellence to the fullest. Their dedication to excellence is the reason we achieved no deficiencies from the state, and why we have also recently been recognized as a 5-Star Hospital with the Centers for Medicare and Medicaid Services (CMS) and a Top 100 Critical Access Hospital in the US by Chartis Center for Rural Health."
The state surveyors were very complimentary of the entire hospital and the operations but made special notes on the upkeep and cleanliness of the building, efficiency of staff, friendly and knowledgeable staff, Peer Review and Quality Report Cards, and the food served to patients and staff.
The state surveyors also noted they heard two words over and over about Boone County Health Center from patients and visitors: "awesome" and "fantastic."
This state survey takes place every three to five years, depending on how the schedule works at the state level. The last state survey took place in 2016.