Bittner Contributes Additional $50K to Ambulance Garage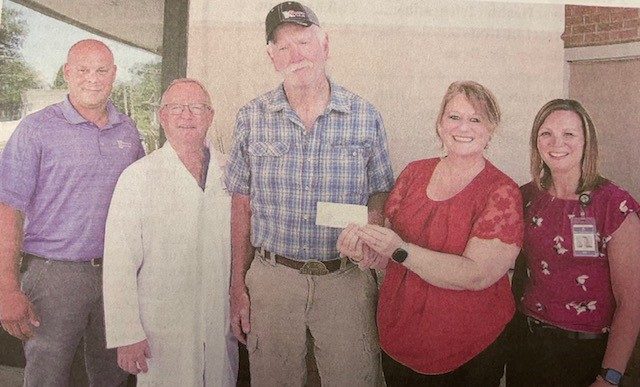 Bittner Contributes Additional $50K to Ambulance Garage
By: Aprill Murphy
ALBION, Nebraska (July 27, 2022) – Keith and the late Mary Bittner family are making good on the challenge commitments for the new Boone County ambulance garage. Accepting the second $50,000 check from Keith Bittner are hospital employees Geoff McGill, Dr. Tony Kusek, Sarah Grape and Tanya Sharp.
Little did Keith and Mary know how much they would benefit from a challenge they helped start in March this year. On Tuesday, May 3, a biopsy confirmed that Mary's cancer had spread. Hospitalization at Buffet Cancer Center in Omaha would no longer help. Also receiving the devastating news were son Brad and his wife Shauna, who were visiting at the time. The hospital recommended dismissal.
Mary had been in the ICU for 120 days, so the Bittner's couldn't leave Omaha fast enough. The hospital said they would work on dismissal papers but thought it wouldn't happen until the next day since an ambulance needed to be found for transfer back to Albion. Shauna, a registered nurse at Boone County Health Center, immediately got on the phone. Four hours later, the Boone County ambulance was in Omaha, and Mary arrived at Boone County Health Center later that evening.
On Wednesday, Mary had time to rest and prepare for hospice care. Mary mentioned to Keith her desire to visit their family cabin in Running Water, South Dakota one last time. With the hospital and hospice care permission Keith, Mary and family were off to the cabin on Thursday morning. Keith had called ahead to let friends know they were coming. The Bittner's driveway was lined with vehicles when they arrived. Mary sat with the windows down, visiting while she enjoyed the sound of the waterfalls. She truly loved it!
Mary passed away two days later on Saturday. Mary's last wish was made possible by the promptness of the local ambulance and the dedicated crew of Rusty Bruland and Amy Zaruba. As of today, a total of $179,763 in donations have been made with a goal of $300,000.
Donations can be sent to the Boone County Health Center Foundation earmarked ambulance garage. Donors giving $5,000 or more will be recognized on the appreciation plaque. Groundbreaking will take place later this month.