Boone County Health Center Foundation Board Adds Experience and Energy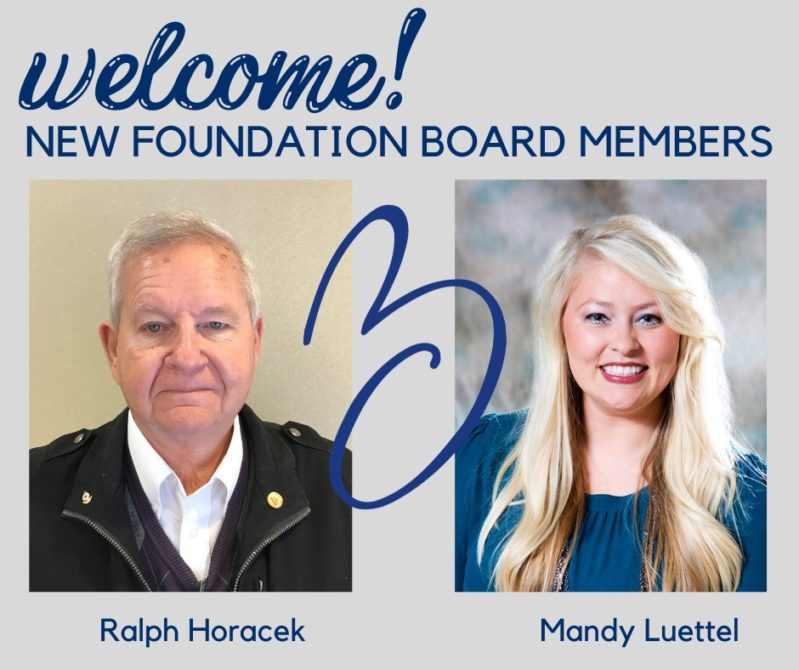 Boone County Health Center Foundation Board Adds Experience and Energy
By: Boone County Health Center
Boone County Health Center Foundation announced the addition of two new board members Ralph Horacek and Mandy Luettel.
Horacek is a lifetime resident of Fullerton where he raised his four grown children with wife Jeanne. He served as the Chief Executive Officer for Fullerton Care and Rehab Center for 15 years before retiring in 2017.
In his spare time, Horacek enjoys playing golf. He has also served on the East Central District Health Department (ECDHD) Board in Columbus and as the Nance County Supervisor for eight years.
Horacek sees a high value in the treatments and services Boone County Health Center provides to residents — such as heart patients, expectant mothers and the elderly – to avoid the need for travel to bigger cities for care.
"I am excited to have Ralph on the Boone County Health Center Foundation Board. I feel with his experience, being a past nursing home administrator and serving on the ECDHD Board, he brings a lot of knowledge to the table," said Boone County Health Center Foundation Director Aprill Murphy.
New Board Member Luettel grew up in Albion where she now lives with her husband Greg and their Great Dane Sky. During her high school years, Luettel served as a Certified Nursing Assistant (CNA) at Boone County Health Center where her mother, Kim Michael, has been a Registered Nurse (RN) for over 20 years.
Luettel currently works as a Talent Acquisition Specialist for TEKsystems. In her free time, she enjoys marketing and advertising the HWY14 Brewing Company she owns with her husband in Albion. Luettel also enjoys sand volleyball, spending time with family and friends, painting and remodeling their home, and traveling when time allows.
"I am passionate about giving back to the community that helped raise me. My family and friends work at Boone County Health Center, and I think it has amazing services here in rural Nebraska," said Luettel.
"The various specialty clinics, surgery center and top-notch labor and delivery care are valuable services for patients in the area, because they allow less travel, saving time and money. Boone County Health Center has also created jobs in our community to draw people in to work in a professional environment," said Luettel.
"Mandy brings so much energy and passion for Boone County Health Center to our Board, and she has valuable experience with event planning," said Murphy.
Horacek and Luettel replace Julie Jarecke and Amber Becker on the Foundation's Board.