Free Gift to Patients – a Useful Tool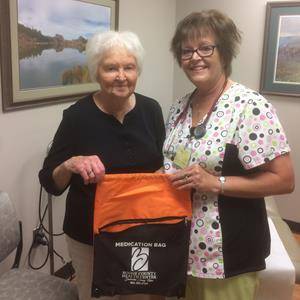 Free Gift to Patients – a Useful Tool
By: Boone County Health Center
In the U.S., medication errors cause at least one death each day and harm about 1.3 million people each year. The U.S. Food and Drug Administration (FDA) says one reason for this is poor communication.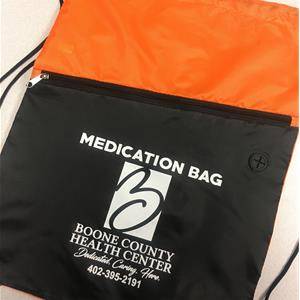 So, we've made a tool called the "orange medication bag" to help our patients speak with their Primary Care Provider (PCP) about the medicines they take.
"We want to keep our patients safe and healthy. But medications can be very risky, and the directions on the prescriptions can be very confusing," said Chief Medical Officer Lynette Kramer. "These bags will help us make sure we all agree on exactly what pills the patient is taking."
The bright orange medication bags will be given for free to patients who take several medications each day. Then, before each visit, patients can put all their meds in the bag and bring them along with them when they see their PCP.
It's simpler for our patients, because they don't have to call to mind the name of each medicine – they're all right there in the bag. It's also nice because patients have the chance to ask questions when their PCP or nurse reviews their meds.
But, as useful as the orange medication bags can be, they're still just a tool. Like any tool, they only work when someone uses them.
"I really hope our patients remember to use these bags, because having a correct medication list in the chart is very important," said Dr. Kramer. "The bags can have a huge impact on good communication and can really help with safer patient care."
The bright orange bags are also useful for the Rescue Squad. If a patient is too sick to talk, the Emergency Medical Technicians (EMTs) can grab the patient's bright orange bag and use it to bring their meds to the Emergency Room (ER).
The orange medication bags are part of the Health Center's ongoing effort to become a certified Patient Centered Medical Home (PCMH), which focuses on helping the patient stay healthy in the first place.