Health Center Donates Life-Saving AED to Zion Lutheran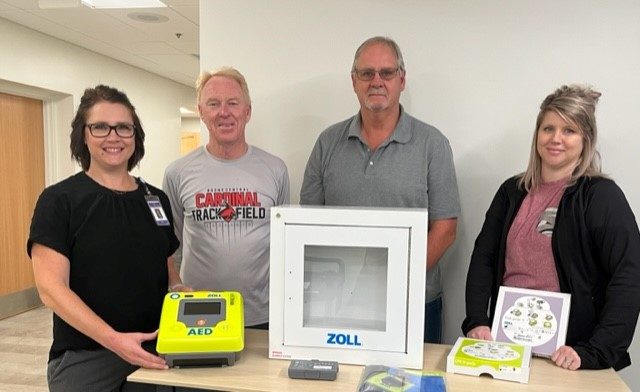 Health Center Donates Life-Saving AED to Zion Lutheran
By: Aprill Murphy
ALBION, NE (September 13, 2023) – In a significant step towards enhancing community safety, Boone County Health Center (BCHC) has generously donated an Automated External Defibrillator (AED) to Zion Lutheran Church in Albion.
An AED is a portable device that can be used to deliver an electric shock to the heart in cases of sudden cardiac arrest (SCA), a condition that can strike anyone, anywhere, regardless of age or health. Immediate access to an AED significantly increases the chances of survival for individuals experiencing SCA.
The donation of the AED to Zion Lutheran Church by the Health Center underscores their commitment to the well-being of the local community. With Zion Lutheran Church often serving as a gathering place for worship and community events, the availability of an AED will provide reassurance to attendees and participants.
Amy Olnes, Family Nurse Practitioner at the Health Center expressed, "Sudden cardiac arrest can happen unexpectedly, and having an AED on-site at such a central location can make a crucial difference in saving lives. Our hospital is dedicated to extending our care beyond the hospital walls and into the heart of the community."
This grant is available to organizations only and not individuals for home use. Applications are reviewed annually. To be eligible to receive an AED donated by BCHC, the recipient organization must operate in the counties of Antelope, Boone, Greeley, Nance, Western Madison, Western Platte, and Wheeler counties; specifically serving the communities of Elgin, Albion, Cedar Rapids, Petersburg, Primrose, St. Edward, Greeley, Spalding, Belgrade, Fullerton, Newman Grove, Lindsay, Bartlett, and Ericson.
To apply for an AED for your organization contact Aprill in the Public Relations department at BCHC.
Pictured: Amy Olnes, APRN, FNP-C presents AED to church council members Tom Dickey, Chris Nelson and Sara Rasmussen.