Help for Moms Who Breastfeed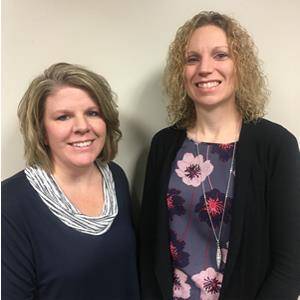 Help for Moms Who Breastfeed
By: Boone County Health Center
Maria Kinney and Deanna Kruse have become Certified Lactation Counselors (CLCs). Maria is the obstetrics (OB) supervisor and Deanna is a night nurse.
Their CLC training involved an intense, five-day course in Greeley, Colorado packed with great breastfeeding facts. It was followed by a certification exam.
"We are so excited to pass our CLC exam, so we can share the information we learned with our staff and patients," Maria said. "Research has shown that moms who get help from CLCs have a better breastfeeding experience and are able to breastfeed longer."
The CLC training is the best, leading certification in Lactation Management in the U.S. It has trained Maria and Deanna how to empower, teach and support moms who breastfeed or are thinking about breastfeeding.
With this training, they are able to answer breastfeeding questions. They can also spot possible problems before they start. This gives them the chance to help prepare moms, so they know what to do.
Breastfeeding has many benefits for both mothers and children. The Center for Disease Control (CDC) says breast milk has antibodies that can protect infants from getting sick, and women who breastfeed may also have lower rates of ovarian cancer and certain types of breast cancer.
"Breastfeeding is a very personal choice," Maria said. "We are here to help things go smoothly when mothers decide to breastfeed, and we continue to support them when they go home as well."
Maria and Deanna are on hand to help all moms who are breastfeeding or who are thinking about breastfeeding. To get in touch with them, call the hospital.