Neidhardt & Iverson Now Wound Care Certified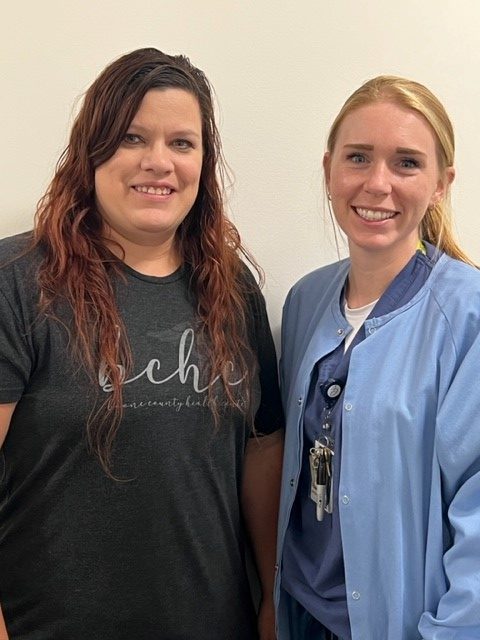 Neidhardt & Iverson Now Wound Care Certified
By: Aprill Murphy
ALBION, Nebraska (August 7, 2023) – Boone County Health Center (BCHC), a healthcare leader committed to providing exceptional patient care, is pleased to announce that two dedicated nurses have successfully attained wound care certification.
Nurses Michelle Neidhardt and Brooke Iverson, both highly experienced and valued members of the nursing staff, have demonstrated their dedication to advancing their knowledge and skills in wound care management. By obtaining this specialized certification, they have enhanced their ability to provide evidence-based wound care treatments, ensuring the best possible outcomes for patients.
Wound care is a critical aspect of patient recovery and plays a vital role in preventing infections and complications. A wound is any hole in the skin. It can be caused by a bug bite, cut, burn, trauma, surgical incision or pressure wound such as bed sores. With their newly acquired expertise, Neidhardt and Iverson will continue to contribute significantly to the overall quality of care. Neidhardt has been a nurse for 13 years and involved with the wound care clinic since its inception in 2017. Iverson has been a nurse at BCHC for 6 years.
"We are proud of Neidhardt and Iverson for their dedication to professional development and their commitment to our patients' well-being. Their efforts in obtaining wound care certification are a testament to their passion for delivering top-notch healthcare," said Dr. Sean Kohl, Wound Care Clinic Lead Physician.
The wound care certification process involves rigorous training, comprehensive coursework, and rigorous assessments. It demonstrates the nurses' ability to apply the latest advancements in wound care treatments and adhere to best practices.
BCHC Wound Care Clinic is offered every Friday. Patients can call 402-395-5013 for an appointment.