Nikki Heidemann Wins Health Center Slogan Contest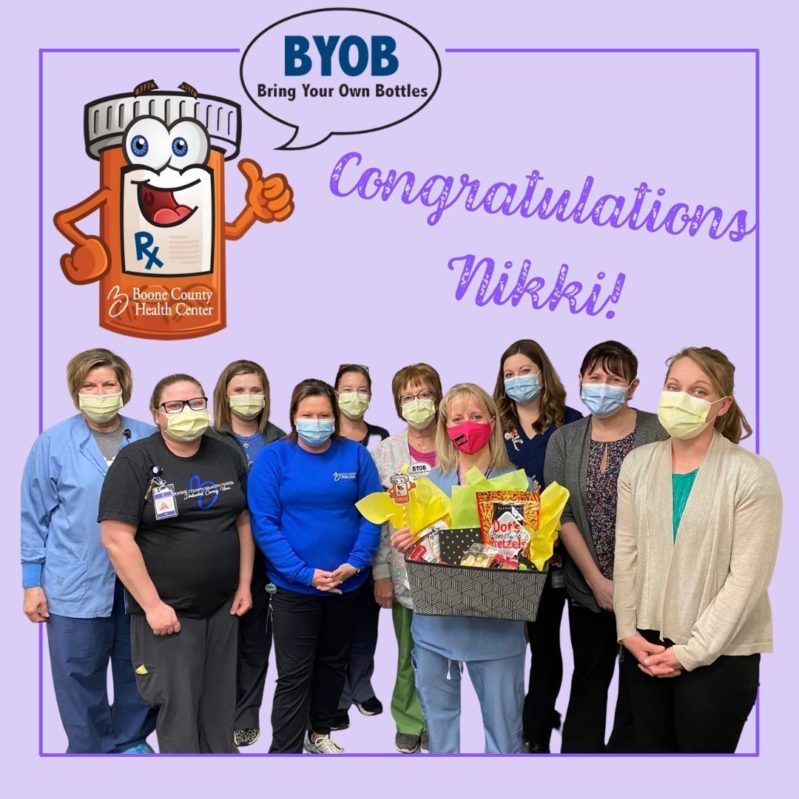 Nikki Heidemann Wins Health Center Slogan Contest
By: Boone County Health Center
Thanks to Nikki Heidemann's creativity, "BYOB-Bring Your Own Bottles" is the catchy, new slogan for the medication reconciliation project at Boone County Health Center this year. This project is aimed at helping patients remember to bring all their medication bottles, including supplements and vitamins, to every visit.
"It's vital to know what medicine a patient is taking at home so we can make sure current and new medicines are safe to take together. The best way to get the most accurate information on what a patient is taking is to look at the bottle, which is why we are asking all our patients to bring their own bottles of medication to every visit," said Information Technology Task Force Member Tammy Reigle.
Medication reconciliation is the official medical term for this process of accurately recording medications in the medical record.
However, Boone County Health Center Medication Reconciliation Task Force knew they needed a catchy name that would stick with patients to help them remember to bring their medicine bottles to each visit. So, they enlisted the help of the entire Boone County Health Center staff inviting everyone to submit name ideas.
In total, 18 names were submitted. The Medication Reconciliation Task Force then had the difficult job of narrowing this list down to just three on which the entire staff could vote. Heidemann's "BYOB-Bring Your Own Bottles" was the winner.
Patients can expect to see "BYOB-Bring Your Own Bottles" messaging on everything from appointment reminder texts to billboards in the coming year in an effort to get each patient to bring their medication bottles to every appointment.