Amy Olnes, APRN, FNP-C
Family Nurse Practitioner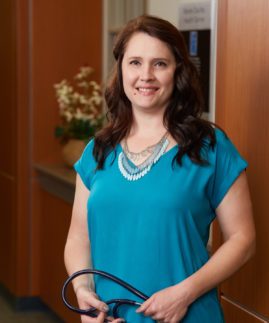 Education
Bryan School of Nursing / Nebraska Wesleyan University / University of Nebraska Medical Center (UNMC)
Biography
Amy Olnes, FNP grew up in Albion and married her high school sweetheart, Boone County Health Center (BCHC) Certified Physician Assistant Jason Olnes, in junior high. She graduated from Albion High School in 1996 and earned her diploma as a Registered Nurse (RN) in 2000 from Bryan School of Nursing in Lincoln, NE.
Amy and her family moved back to Albion in 2013, and she began caring for patients at BCHC as an RN. Amy always knew she wanted to further her nursing education and expand her ability to offer patient care.
In 2014, Amy graduated with a bachelor's degree in nursing from Nebraska Wesleyan University. In 2018, she earned her Master's Degree as a Family Nurse Practitioner (FNP) from the University of Nebraska Medical Center and began caring for patients as an FNP at BCHC. Amy and her husband live outside of Albion and have three children.