Joel Travis, MD
Family Practice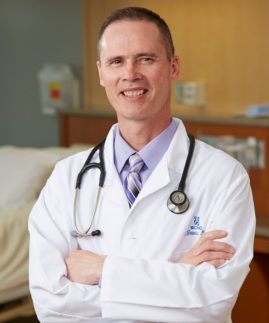 Education
University of Nebraska Medical School
Residency
Primary Care with the Rural Training Track, UNMC
Certification
American Board of Family Medicine
Advanced Life Support in Obstetrics (ALSO) Instructor
Biography
Dr. Travis grew up in Wauneta, Nebraska. He took college classes to become a veterinarian but decided to take a year off after a Pitbull bit him in the face and he didn't get into his number one choice for veterinary school. In that year, God worked on his heart, and Dr. Travis realized he enjoyed working with people more than animals. He studied hard to get into medical school with a prayer God would guide his final decision. Dr. Travis was among the first medical students to be accepted into his class at the University of Nebraska Medical School, and it felt like an answer to prayer.
Being a doctor is not just a job to Dr. Travis. It is his calling. His favorite thing about family practice is working with the whole family, sometimes many generations within the same family. He values getting to know his patients and likes watching their families grow and evolve.
Dr. Travis has cared for patients at BCHC for over 27 years. He lives near Albion with his wife Anastasia. They have six grown children and several grandchildren. Dr. Travis starts each day with a daily devotional and a workout. In his spare time, he enjoys being with his family, reading World War II novels and watching old western movies.
More/Other Information
Associated Member of the American College of Obstetrics and Gynecologists