Staff Recognize Nurse Amanda Gulbrandson for Faith, Leadership and Kindness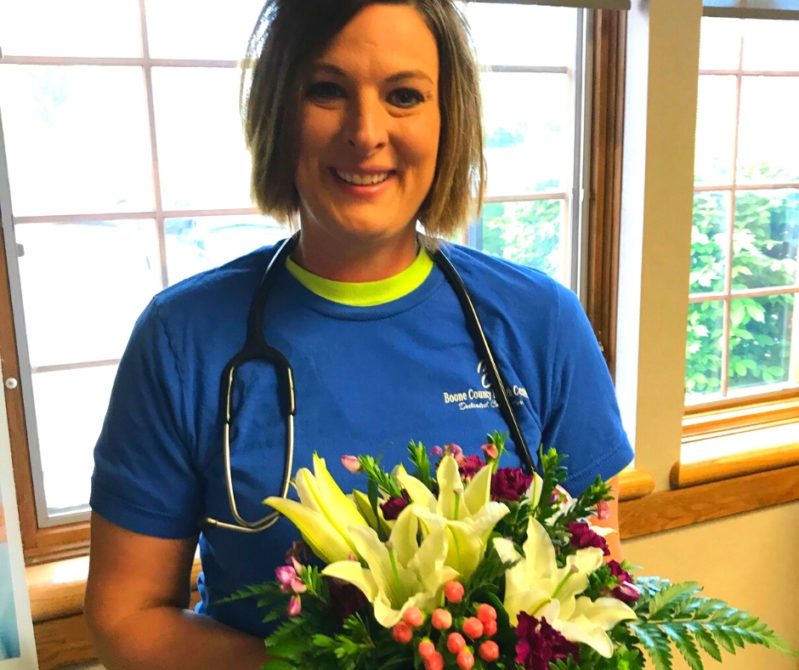 Staff Recognize Nurse Amanda Gulbrandson for Faith, Leadership and Kindness
By: Boone County Health Center
Boone County Health Center is pleased to announce Amanda Gulbrandson received this year's Caring Kind award.
Each year Boone County Health Center recognizes one staff member who has gone above and beyond to be caring and kind to fellow staff and patients. To receive this award, a staff member must first be nominated by a co-worker and then receive the most votes on a ballot.
"I can't think of anyone who is more deserving of our Caring Kind Award. From the bottom of her heart, Amanda is a truly kind person. In her life she has really allowed Christ's love and kindness to flow through her into everyone she is around, whether it's our staff or our patients. She just has a way of really ministering to people's hearts and what they are going through," said Dr. Tami Dodds.
"Amanda is so compassionate as a nurse. She is kind, hard-working, thoughtful and inspirational. Each morning in huddle we often say a prayer to get our day started off right. She has such a way of sharing prayer with us and really getting our day started off right so we are ready to take care of our patients each and every day," said Vice President of Clinic Services Kristie Stricklin.
"The ultimate praise I can give Amanda is that our patients have better care because of her and our days are brighter because of her," said Dr. John Mazour.
Gulbrandson has worked at Boone County Medical Clinic in Albion for five years. She is a native of Central City and graduated with her Registered Nurse and Bachelor of Science in Nursing degree from Mercy College of Health Sciences in Des Moines, IA. She is currently obtaining her Psychiatric Mental Health Nurse Practitioners Degree from Mount Marty College.
Upon receiving the award, Gulbrandson said she was extremely humbled because there are so many staff members at Boone County Health Center who deserve this recognition. She credits the Lord with all the praise and glory and shared the Bible verse that guides her life: "I have been crucified with Christ and I no longer live, but Christ lives in me. The life I now live in the body, I live by faith in the Son of God, who loved me and gave himself for me." (Galatians 2:20)
One of the many co-workers who nominated and voted for Gulbrandson to receive the Caring Kind Award said of her, "Amanda is the type of person who always puts others before herself. She is the most kind, selfless person I have ever met! Knowing I get to work with her always puts a smile on my face. She has such a fun personality with a wonderful sense of humor! She is the most caring person I know. She takes time with patients and lets them know that they matter."
Gulbrandson is married to Cody Gulbrandson, veterinarian and co-owner of Town & Country Vet Clinic in Albion. The Gulbrandsons have three sons, Hadley 14, Austin nine, and Karsten five.
Due to social distancing, Boone County Health Center was not able to hold their normal party to honor the Caring Kind recipient. However, a touching video about Gulbrandson can be seen on the Boone County Health Center Facebook Page.