We've Been Named "Most Wired"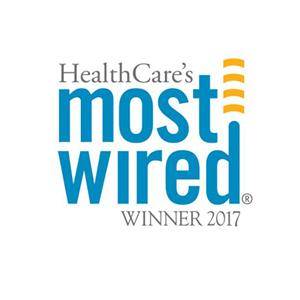 We've Been Named "Most Wired"
By: Boone County Health Center
We've been named HealthCare's Most Wired once again this year! Most Wired hospitals are using technology to craft more ways to reach their patients and give better access to quality care.
"We do our best to use new technology in order to provide the highest quality care for our patients," said BCHC Chief Executive Officer Tanya Sharp. "We're proud to be recognized for our use of technology." 
We use tools such as the Patient Portal to help patients become more actively involved in their healthcare.
IT continually upgrades the electronic medical record (EMR) to meet the needs of our patients, providers and staff as well as the strict compliance guidelines required by the healthcare field's governing bodies.
"The IT Department is always looking for ways to give patients more clinical services, by using technology to reach clinical resources that are not easy to reach in the rural setting," said Chief Information Officer Larry Zoucha. "For example, in recent years, we've added telehealth. This allows patients who are in Albion to have an appointment with a doctor at a different location through the use of video."
The IT infrastructure is regularly updated to give staff the tools and technology they need to give the best quality patient care. Systems are updated and monitored to keep patient data safe.
We have also grown our use of sophisticated IT systems which spot patient privacy breaches, watch for malicious actions or policy violations, and give real-time security alerts.
For 19 years, Hospitals & Health Networks has named the Most Wired Hospitals and Health Systems in the nation using the Most Wired® Survey and benchmarking study. This is the leading tool in the industry to reveal the use of information technology (IT) among hospitals nationwide.
Only two other critical access hospitals in Nebraska were named on the 2017 Most Wired list.