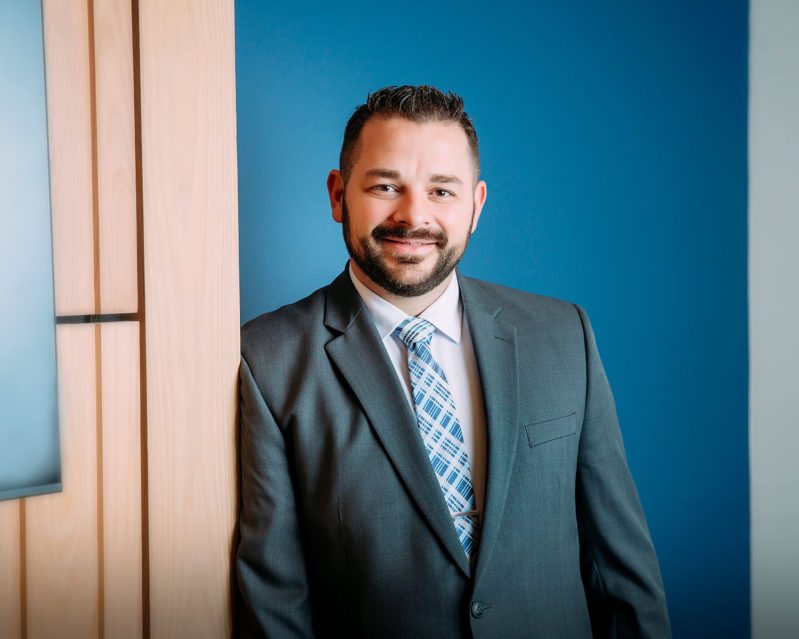 New CEO's Road to BCHC
By: Aprill Murphy
(ALBION, NE – November 9, 2023) Whether working in physical therapy or in health care administration, Caleb Poore said he most enjoys the connections he makes with people.
"I enjoy learning first hand what patients want, and helping them get to the next step," he said.
A native of Cozad, Nebraska, Caleb started his post-secondary education at Clarkson College, Omaha, earning an Associate of Science degree in 2011 as a physical therapy assistant.
His interest in a health care career began in high school when he was a football player and received physical therapy for back issues from PT Robert Dyer at Cozad. Dyer provided a positive influence, and Caleb chose physical therapy for his career path. He trained under Dyer while pursuing his PT-A degree.
Caleb, 34, has also been greatly influenced by his parents, David and Mary Poore, long-time teachers in Cozad, and by his four older brothers (John, Mark, Matthew & Luke), who are involved in both technology development and health care administration.
After joining Hallmark Rehabilitation (now Genesis Rehabilitation Services) in Omaha in 2011 as a PTA, his employer notified the staff that an assistant rehabilitation director was needed, so Caleb applied and took on that role. He soon became the director of rehab and held that position with Hallmark Rehabilitation until 2015. "I was able to learn how to make a bigger impact in health care, to make it even better for both staff and patients," he said. "My motivation with staff is to help them achieve both professional opportunities and financial goals." In short, he feels that people gravitate to those who are willing to lend them a hand, and that has been his emphasis.
With the transition to health care administration completed, Caleb moved to Aegis Therapies, based in Sioux City, IA, and Norfolk, NE, in 2015-2016. There, he was director of rehabilitation for multiple sites. From 2016 to 2018, he was multi-site director of rural health clinics for Burgess Health Centers at Dunlap, Sloan, Whiting and Mapleton, IA, and Decatur, NE. In 2018, he took the position of chief financial officer at Callaway District Hospital, Callaway, NE, and served there for five years before coming to Boone County Health Center.
Advanced education was part of Caleb's changing role, and the years from 2015 to 2017 were very busy. While working full time, he completed requirements for both his bachelor's degree (2016) and master's degree (2017) in health care administration at Bellevue University.
He and his wife, Anna, met at a birthday party when he was attending Clarkson College and she was attending Midland University to earn her degree as a Registered Nurse with a minor in gerontology. They became engaged later that year and were married in 2014. They now have three children — Evelyn (Evey), six; Rosalie, who will be three years old in December, and Elijah, five months old.
After making many career moves in the past 12 years, Caleb said he and his family were ready to settle in a hometown for the long term. "We wanted a place to call home, and this is it," said Caleb of the move to Boone County Health Center as president and CEO. "We were impressed by the people, the facilities here and the progress of this area."