Boone County Health Center Named Top 100 in the Nation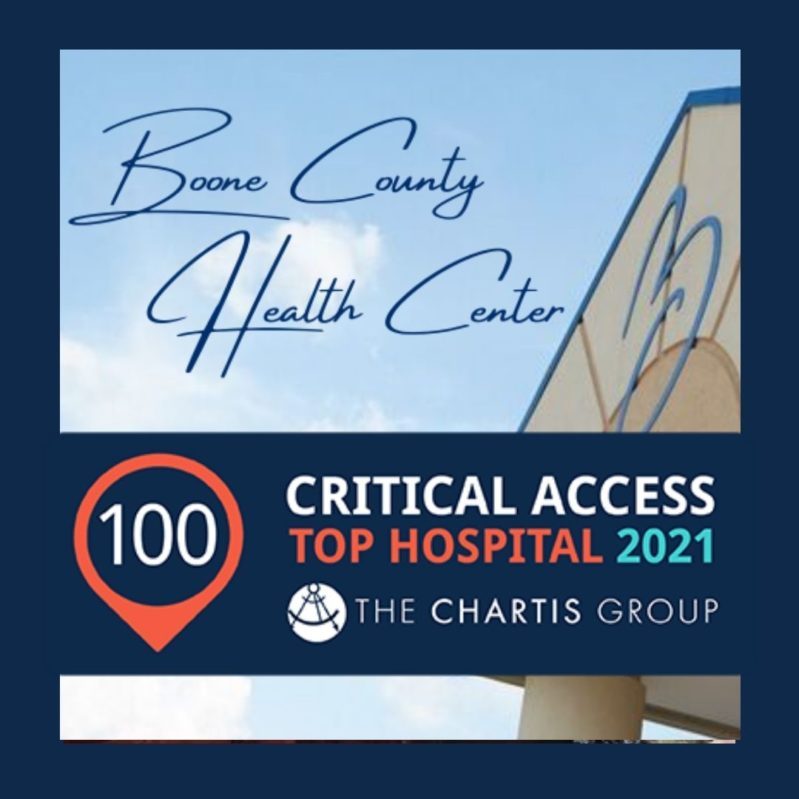 Boone County Health Center Named Top 100 in the Nation
By: Boone County Health Center
Boone County Health Center today announced it is a 2021 Top 100 Critical Access Hospital. This honor is given by The Chartis Center for Rural Health based on the results of the Hospital Strength INDEX®.
"Boone County Health Center is honored with several awards for excellence each year, however, this award in particular is respected across the industry as one of the most reliable and objective measures of excellence. We did not apply for this award. Instead, Chartis identifies the best of the best by analyzing the data," said Boone County Health Center President and CEO Tanya Sharp.
Over the past 11 years, the INDEX has grown to become the industry's most comprehensive and objective assessment of rural hospital performance. It is based entirely on public data and uses an astonishing 36 independent indicators that assess rural hospitals for their ability to achieve a high level of quality care, mitigate risks for patients, and secure better outcomes while increasing patient satisfaction and operating at the lowest cost possible as compared to peers.
This is the fifth year Boone County Health Center has been recognized as a Top 100 Critical Access Hospital based on the INDEX. According to the National Rural Health Resource Center, there are 1,352 Critical Access Hospitals in the United States. By having one of the highest 100 scores among all critical access hospitals nationally, this indicates Boone County Health Center is in the top 7% of all Critical Access Hospitals across the entire United States.
"Never was our staff's excellence more evident than in the past year. Time and time again they have shown resilience, adaptability and a commitment to the health and wellbeing of the people who live in the communities we serve, even in the face of uncertainty during this global pandemic," said Sharp.