Caring Kind and Department of the Year Announced at Health Center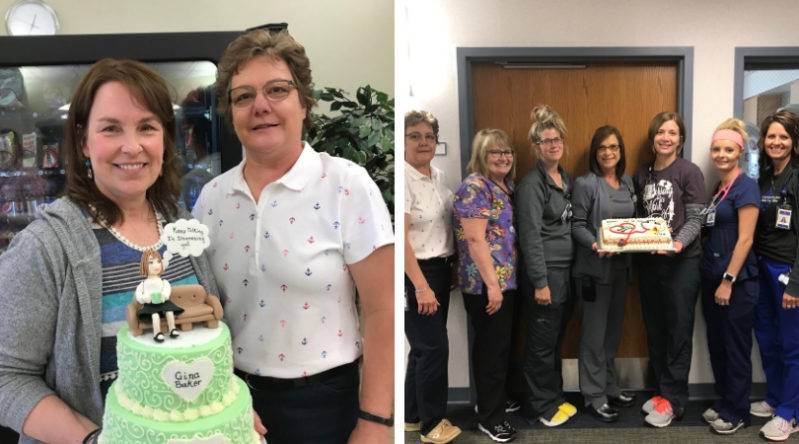 Caring Kind and Department of the Year Announced at Health Center
By: Boone County Health Center
Boone County Health Center is pleased to announce Gina Baker has received this year's Caring Kind award.
Each year Boone County Health Center recognizes one staff member who has gone above and beyond to be caring and kind to fellow staff and patients. To receive this award, a staff member must first be nominated by a co-worker and then receive the most votes on the ballot.
Baker's co-workers wrote about her on the nomination form, "Gina is extremely dedicated to her patients and is always going above and beyond for Boone County Health Center. She is involved in several groups both at Boone County Health Center and in the community. The compassion Gina shows her patients is phenomenal. Gina may have her own battles to fight, but this does not keep her from being positive and upbeat. She always puts others first, even on days when she's not feeling well herself."
Gina is a Licensed Independent Mental Health Practitioner (LIMHP) and has worked at Boone County Health Center since 2001. She is a graduate of St. Edward High School. Gina earned her Bachelor's Degree in Human Services Administration and Sociology from Hastings College in Hastings, Nebraska and her Master's Degree in Human Development (MHD) from the University of Kansas in Lawrence, Kansas.
"Gina is always kind, caring and thoughtful to everyone, not just her patients but to her coworkers, friends, strangers, her community and other communities as well. Gina is always thinking of her next way to bless others, from huge events like 'We're Still Standing' to benefit towns affected by the flood to delivering cinnamon rolls to her neighbors and coworkers. Gina has an unbelievable faith and is always willing to listen. Anyone who comes in contact with this amazing lady leaves a better person. We are blessed to have her at Boone County Health Center," wrote other nominating co-workers.
Each year Boone County Health Center staff also vote on a Department of the Year. This year staff chose the Hospital Floor Nursing staff as the Department of the Year..
Staff said, "Our hospital floor nursing staff is devoted to their patients and go the extra mile to provide the highest level of care for everyone who comes through the Hospital doors. They are kind and compassionate to patients, willing to help out whenever and however it is needed and work amazingly well as a team."
"Our nurses work long hours and always put the needs of Boone County Health Center patients before their own. They stay overnight at the hospital in a blizzard so there are enough people on staff in an emergency. They work days, nights, weekends and holidays. When there are a lot of patients in the Hospital, they put in extra hours without complaining in order to make sure everyone is well taken care of."
The Hospital Floor Nursing staff along with Caring Kind recipient LIMHP Baker were recognized at a party during National Hospital Week at Boone County Health Center on Wednesday.