Sandra Henry, PA-C
Physician Assistant and Medical Aesthetician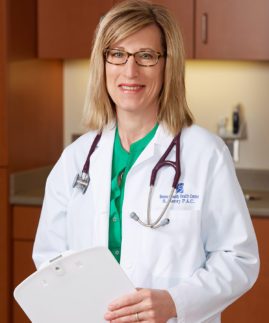 Facility/Office
University of Nebraska Medical Center (UNMC)
Sandy completed advanced training in Aesthetics and Sclerotherapy and heads the Aesthetics Specialty Clinic in Albion.
Biography
Sandra Henry, PA-C grew up in Abie, Nebraska. She has always loved biology and knew she wanted to be in health care from a very young age. Sandy earned her Physician Assistant Degree from the University of Nebraska Medical Center and began caring for patients at Boone County Health Center (BCHC) in 1991.
The most rewarding part of her job is being able to make a difference in people's lives in a positive way. Her secret to great care is to treat everyone as though they are her own family. Sandy has completed advanced training in aesthetics and sclerotherapy and heads the Aesthetics Specialty Clinic at BCHC.
In her spare time, Sandy enjoys gardening, organizing, shopping and spending time at sporting events watching her kids. She draws her strength from her faith and relies on prayer to help her throughout the day. One of Sandy's favorite things about BCHC is how well all the providers get along. Sandy's husband Brian works in the Purchasing Department at BCHC. They live in Albion and have four children.
Phone
(402) 395-5013